THE MID ESSEX GUILD OF WEAVERS, SPINNERS & DYERS

Our new committee have taken over but we still need a couple more committee members. Please let the committee know if you would like to join the team. It's nothing arduous and you learn a lot along the way. New members who join the committee can be co-opted.
The committee meetings in future will be at White Notley Village Hall at 9 am. on the day the guild meets.
We are now having Zoom Committee meetings and any news will be sent to members (mostly by email) in the monthly catchup round robin. If there is anything you feel we should discuss, please contact Chris Applebee. Many thanks
PLEASE NOTE;
The August meeting will be on the second Saturday 14th August as the Assoc. Summer School is on at Writtle this year and begins on the 15th Aug. This was discussed at the AGM as some of our members are enrolled for courses and there's a sales day on the 21st which many members might like to go to.
Cambridge Guild are holding their Open Studios through July 2021. All information on their website. There's a link to this on our home page.
This is an Email from Mary Schoeser of the School of Textiles in Coggeshall
Many thanks for taking my call and agreeing to help with my search. The details are as follows
The School of Textiles in Coggeshall has recently taken in a large collection of paperwork and samples, many relating to the great weaver Ella McLeod, who founded the textile course at Farnham in 1949. Prior to that she had taught at Howell's in Denbighshire from c.1933-44 (and then spent the intervening years doing an influential study of the importance of craft teaching in secondary schools, leading to the development of the first 'A' and 'O' level textile courses). We are in the process of making a list of all of this.
Several years ago, Mary Schoeser gave a talk to a weavers' group meeting in Chelmsford, where among those attending was someone who afterwards mentioned that she had been a student of Ella's at Howell's. Mary, now Patron of the School of Textiles, would very much like help in locating that person, since her memories of those days will be invaluable. Any leads - or a response from that individual - can be sent to Mary at schoeser@aol.com.
Any other memories of Ella would, of course, be very welcome!
For more information about the School see www.schooloftextiles.co.uk
- and I've copied Charlotte and Sue, who are doing the cataloguing of the collection.
It would be wonderful if this works, and I appreciate you sending this information on to your own newsletter editor.
all best wishes
Mary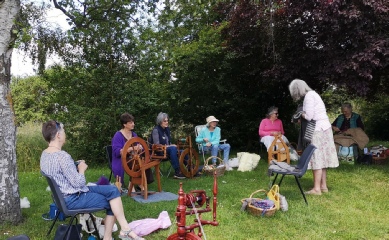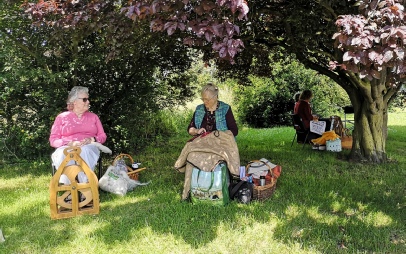 Photos taken at our first real meeting since Feb. 2020. It was a lovely sunny day too!
Our 40th Anniversary Exhibition, which should have happened this June has been postponed and the dates will now be June 11th 2022- June 25th 2022 at the Braintree District Museum.
Nettles
 Nettles are best picked between July and September
 Look for the tallest thickest nettles as they will have the most fibre in them
 Cut the stems a few inches above the base
 Pull off all the foliage by rubbing the stems through a gloved hand
 collect a few stems and ret them... either by submerging in water, or by leaving on a grassy lawn and turning them over each day... if it is very dry and there is not much morning dew, water with a watering can... this takes about 1 week.
 dry the stems, then bundle and store in a cool dry place.
 to process... take one dry stem, split it apart and take out the core. then hand roll to get rid of the unwanted outer skin and release the fibre (do this outside as it is very dusty)
 The white fibres should start to appear, continue processing by scraping with a butter knife to remove the fine particles of stem
 The fibre can then be carded and spun
I hope this is of interest...